SWITLIK more than just a manufacturer!
Published on September 4, 2020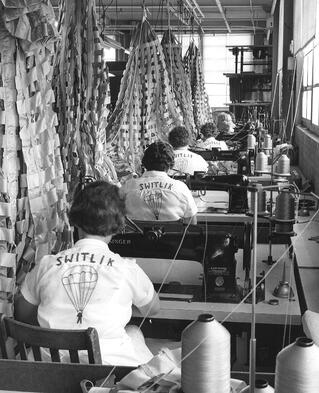 We are proud to have a long standing association with Switlik, not only as the Switlik Technical Advisor for the Australian Government and Defence Forces, but also because we truly believe in their safety and survival products and the standards that they exceed in the manufacturing of these products.
More than just a manufacturer, Switlik have a long heritage of supporting military and government services dating back to 1920.  A little history lesson, if I may…..
Founded by Polish immigrant Stanley Switlik, Switlik Parachute Company (first incorporated in 1920 as the Canvas-Leather Specialty Company) was an early leader in the design and manufacture of parachutes for the aviation industry and the United States military services. The company received five Army-Navy "E" awards for its impressive productivity of parachutes during World War II (WWII) for our country's "Arsenal of Democracy."
As we know them today they are the leading worldwide manufacturer of the highest quality sewn and heat sealed inflatable safety and survival products for the aviation, marine, and military markets. With integrity, research and world leading technologies their products stand the test of time.  However, there is another side to this business, one that gives back to communities and customers alike.
Giving back to the community has been a fundamental part of their past and a legacy they continue to build. Since the early years, Switlik has donated products, land, financial resources and time to various organisations and school districts.
In 1952, chairman and owner Stanley Switlik discussed the formation of a company foundation for charitable contributions to the Board of Directors. He believed that through the medium of a foundation, more efficient benefits could result to charity. This proposal was unanimously adopted and Switlik Parachute Company, Inc. officially started a charitable trust, to be known as the Switlik Foundation.
The creation of the Switlik Foundation was far ahead of its time and its forward-looking vision has had a lasting impact on the community. Still to this day, the philanthropic arm of Switlik Survival Products, supports schools and organisations by giving back and investing in the local community where their employees and customers live and work and is fundamental to Switlik Survival Products.
Corporate responsibility is important and we are proud to be aligned with and endorse Switlik.  Their support of Red Baron ALSE has meant that we have been able to support and provide the customers we serve with the very best safety and survival products in the world, without undermining our own Corporate conscience or integrity.
To view our comprehensive range of Switlik Constant Wear Life Vests, to make an enquiry or to view the full specifications of the range.  Please click here.
Yours in safety,
Greg Bayne