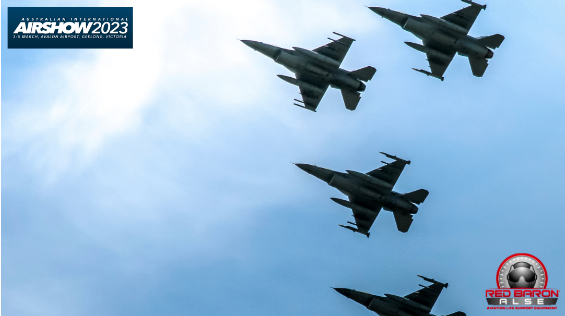 AVALON AIRSHOW 2023
"I feel the need, the need for speed"
Pretty much sums up what the airshow means to the thousands of punters that head through the gates to see, hear, smell and experience the might of our aviation industry and our military.
To us here at Red Baron ALSE, it means teaming up with our great partners to showcase all that we do and supply. We'll be front and centre in Hall 2, stand 2P20 from Tuesday the 28th of February – through until lunchtime on Friday the 3rd of March for our trade friends and mixing it up with the public from Friday arvo through to Sunday the 5th of March.
Proudly Australian & Veteran Owned
At Red Baron ALSE having had decades of hands-on experience with aviation safety equipment in both operational and hostile conditions across the globe, our accomplished staff provides meticulous expert technical support and instruction to military and commercial aircrews, assuring survival is in the safest hands possible.
Our manufacturing facility provides exemplary service, modification and repairs for flight helmets, plus sales and distribution of Aviation Life Support equipment. We are passionate about the research, design and development of such products for Defence Force projects. Our partnership with Original Equipment Manufacturers, in-house customisation, and best-practice manufacturing, ensures a superior nationwide and international service. Our cutting edge Next Generation technologies enable outstanding solutions for specific Aviation Life Support Equipment projects.
Other products and services include flight helmets, life vests, life rafts and survival gear customised to specific theatres of operation.
Our distinct policy of partnership with OEMs and a dedicated unique whole-team approach is appreciated and valued by our esteemed customers and suppliers.
Our company's mission statement:
"The professional aviator's first choice in hostile environments."
We are an authorised battery replacement centre for ACR PLB's and it's important to know that replacing the battery in your Personal Locator Beacon, is not as simple as replacing the batteries like you would in your TV remote or other household items.
The Battery Replacement service includes:
Inspect unit and ensure serviceable
Install new battery
Remove and dispose of old battery
Install new battery kit
Replacement of all gaskets, seals and waterproofing of unit.
New battery label
Reset history
Perform a serviceability test on unit and provide report
Our facility located at Fyshwick in ACT is now the centralised location for this service with our trained technicians.
BATTERY REPLACEMENT | ENQUIRE NOW
Purchase a new PLB
If you're looking to purchase a new PLB then look no further than the new and updated ResQLink 400 Series.